The CC range of visitor card capture devices can be supplied in a standalone housing or integrated within our gates and turnstile cabinets or as an OEM part.
Capturing contractors or visitor passes helps to greatly reduce the cost of lost cards and increases building security. The card capture can work with simple paper passes or integrated with the end users own access control reader.
The standalone housing offer a slim profile making it easier to install beside or in front of most makes of pedestrian entrance control gates or turnstiles.
Any make of proximity card reader can be mounted inside the device, all that is needed is a dry contact output signal from the access control to confirm the inserted card is valid. After receipt of a valid card signal the card will be sent to the collection box. If no signal is received after a pre-set time the invalid card will be returned.
Cards, their holders and pin clips up to 100mm wide can be accepted. Lanyards must be removed from the holder before inserting the card and its holder in to the device.
Bottom lockable access panel and easy access to the mechanism makes card collecting and maintenance easy.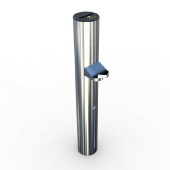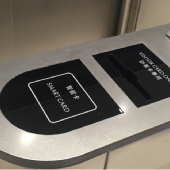 'Evolving the way you manage your pedestrian entrance control'
Visitor card capture is an ideal way of collecting visitors cards improving security and reducing costs.
Copyright of Evolve Security Products, all rights reserved 2016-2022.